There is a 99.9% chance that whoever you are reading this – you're not spiderman…
So that can make life pretty tricky when you're trying to work on buildings of all shapes and sizes. While you may need to tackle roof fittings or construction for flats or office blocks; health and safety should be a top priority.
There are plenty of benefits of scaffolding that can help you overcome many of the risks associated with working high up, in hard to access spaces and perhaps not being spiderman… We want to ensure you have full access to the job at hand and are able to keep every workman secure at the same time.
Take a look at why our services for residential projects may be right for you.
Efficiency
By being able to manoeuvre around buildings of any shape and size both quickly and easily, scaffolding improves the efficiency of any residential job. You want to be able to get on with the task at hand, without having to change ladder positioning regularly or relying on other people to carry on.
Partner that with the short time it takes for our skilled team to erect scaffolding – you could be shaving off valuable time and allowing your project to remain on schedule. When time is of the essence, it is clear to see why the benefits of scaffolding are important during construction.
When a worker is offered an accessible, comfortable working space, productivity will increase without a doubt. When you are taking into account the physical aspect of a residential job you will notice it even more so. Employees will thank you for it too!
Keep
Everyone
Safe
Construction and working at a height are bound to come with an element of risk. You Not only need to look after yourself and your fellow team members, but pedestrians and other people that may be passing below are a cause for concern too.
The safety applications of our scaffolding such as netting and fencing encompass the safety precautions for all parties. When working in busy towns and cities, it's important to have protection against the odd bit of falling debris or the accidents that happen.
Platforms are perfectly balanced and supported to allow for continuous movement. It means that even with a big team all working on the same building – you can be sure the supports will remain in place. No accidents on our watch!
All of our scaffolding for hire completely fulfils the relevant legal requirements as per existing UK legislation. The safety of people using our products is, of course, a prime concern for the team. Everything will be covered under:
Health & Safety At Work Act 1974

Management of Health & Safety Work Regulations 1999

Work at Height Regulations 2005

Construction (Health, Safety & Welfare) Regulations 1996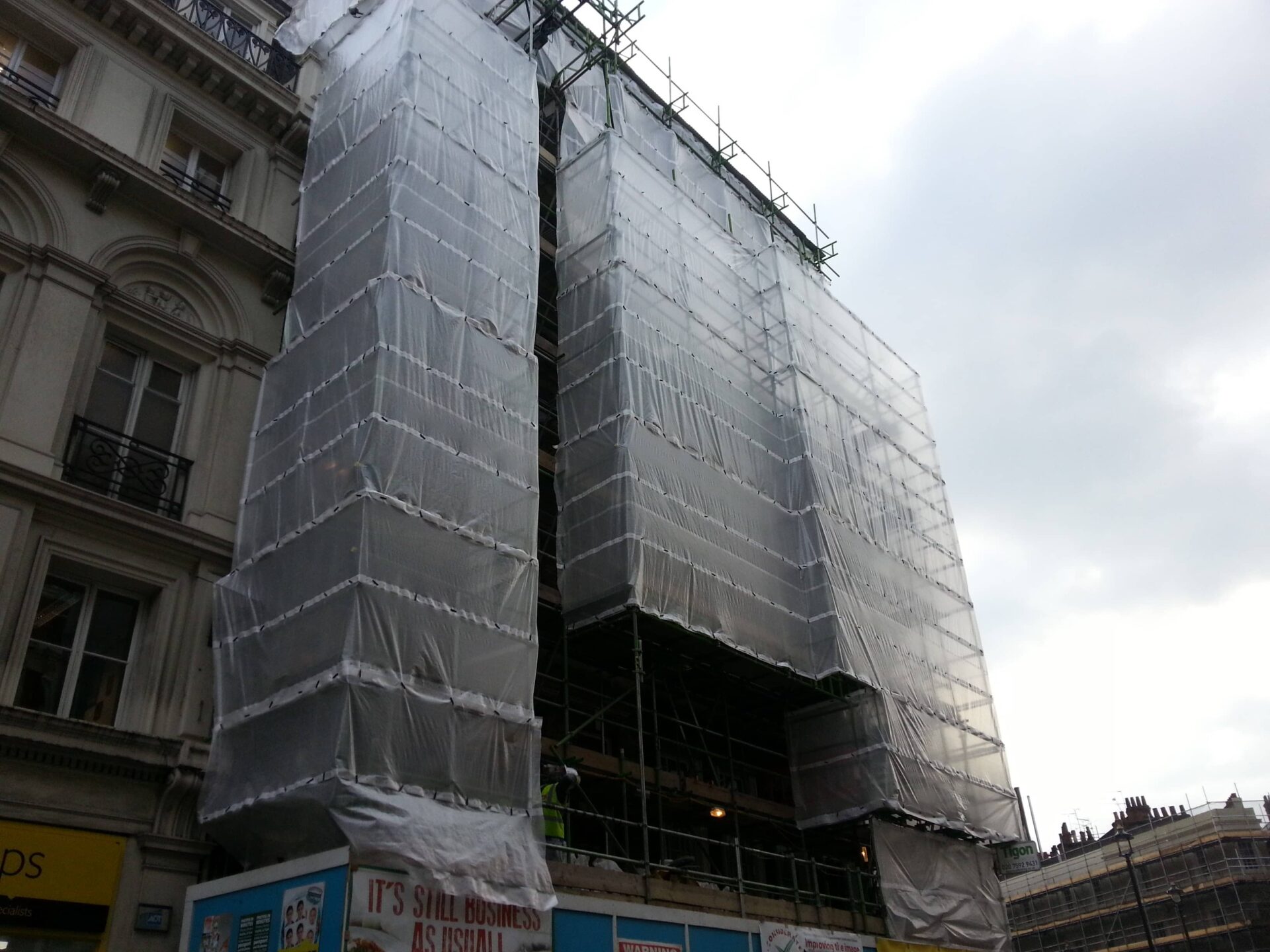 Prime Position
We understand how precise and tricky construction work can be to carry out. One of the benefits of scaffolding is that it puts you in the prime position to safely carry out repairs, maintenance and building work on high-rise properties.
As well as this, you are not solely relying on generally precarious ladders and whatever trust there is between you and your colleagues. (We would never ask you to rely on that!)
But in all seriousness, ladders often cause you to work at an angle and without the proper balance needed to handle power tools or other materials. Scaffolding provides you with a flat, sturdy platform to reach all points of the walls or ceiling. As a result, you can ensure everything is level and that you have as much space as you need to carry out each stage.
It also opens up the opportunity for multiple people to work next to each other. Handy for those heavy beams and objects that might be a bit difficult to manoeuvre, as well as building those all-important work relationships and trust…
Connections
In such a busy profession, you are going to be running all over the place. On a big property, you might need to take unnecessarily long routes to access certain areas. It can waste a lot of time and require workers to lug heavy materials further than they need to.
Scaffolding can create useful bridges and connections between areas of a building to ensure the most efficient movement throughout the day. It saves time, effort and most of all makes the construction simpler. Instead of making all your lives harder, get in touch with our team and let's discuss the possibilities of making it all much more efficient!
As Long As You Need
Another one of the benefits of scaffolding is that it lasts ages! Both steel and wood do really well up against the elements so even if projects get put on hold for a while, you won't need to worry about unsturdy supports when you return. They'll still offer a high level of security and extra balance for jobs of any size.
This is essential in long-term projects and more extensive work such as new development plots or high-rise buildings in the city. They may have a timeline of a few months, but if this gets pushed back to unforeseen circumstances or reasons out of your control, you want to be sure you can rely on the hired scaffolding to remain secure.
We can figure out how long your timeline is for a certain job and will provide a quick turnaround on quotations and tenders for new build construction and refurbishment projects. Don't forget we're on the phone 24 hours a day and offer some of the best rates in London and Surrey.
Tailored To Your Requirements
One of the most obvious benefits of scaffolding is that we erect each section custom to your needs. No matter the size or layout of the building, we'll ensure your workers can get everywhere they need to safely and quickly.
After all, the work at height regulations states that scaffolding has to be unique to the location unless you're using a standard configuration. If you've found yourself with a particularly awkward design, chances are that standard scaffolding won't quite cut it.
Custom setups with Tigon Scaffolding ensure you've got access to every nook and cranny for even the most difficult of floorplans. We have worked on a diverse range of projects across London and the South East from tall commercial buildings to large civil structures such as dams.
Our scaffolding is constructed by experienced scaffolders who can advise on all aspects of your next project!
The Benefits Of Scaffolding With Tigon
Construction is a risky profession and each project comes with its own dangers. We are aware that you want to get the job done quickly and efficiently whilst keeping your team safe. That's where we come in.
Get in touch with any scaffold requirements you may have. We offer solutions to all things scaffolding from residential homes to large construction projects. You name it, we can sort it!
We are a CITB registered company that works alongside national construction firms and local builders in and around London. We can advise on all aspects of your next project and ensure you have the capabilities to carry out any size construction.
We also supply and erect scaffolding for residential clients so if you have another home renovation on the cards – give us a ring on 020 7592 9431.
Learn about how projects were scaffolded in the past here!