Commercial scaffolders go through extensive training and play a major role in different construction projects from small detached houses to high-rise skyscrapers in the city.
They know the industry like the back of their hand, but of course, wouldn't expect you to know the same. Although, there are a few things we would love you to know before hiring any type of scaffolding for your next job.
First and foremost, safety is always our number one concern. That goes without saying. We want to make sure that everyone involved in the project is safe, from the workers on the scaffold to those walking underneath.
However, it's not all serious business. Our industry actually has a pretty cool history and so we'd love to share some interesting facts with you too!
Did You Know?
We know what you're thinking. How interesting can it be? But there is a lot more to the work of commercial scaffolders than you may think. As a result of precision engineering, it has come a long way from its origin!
1# Seventeen Thousand Years Ago…
When explorers found holes in palaeolithic caves, it was thought that a very early form of scaffolding was used to paint the ceilings over 17,000 years ago! It probably didn't look quite the same as the structures we now use – nor would they have been as safe! But the principle remains unchanged even all those years back.
2# The Great Wall Of China Used Bamboo Scaffolding!
Evidence shows that scaffold was most likely invented in China and North Africa. Now, we know we just mentioned the 17,000-year-old structures, but in the modern sense of the word – it was a little after that we started to see platforms and solid creations.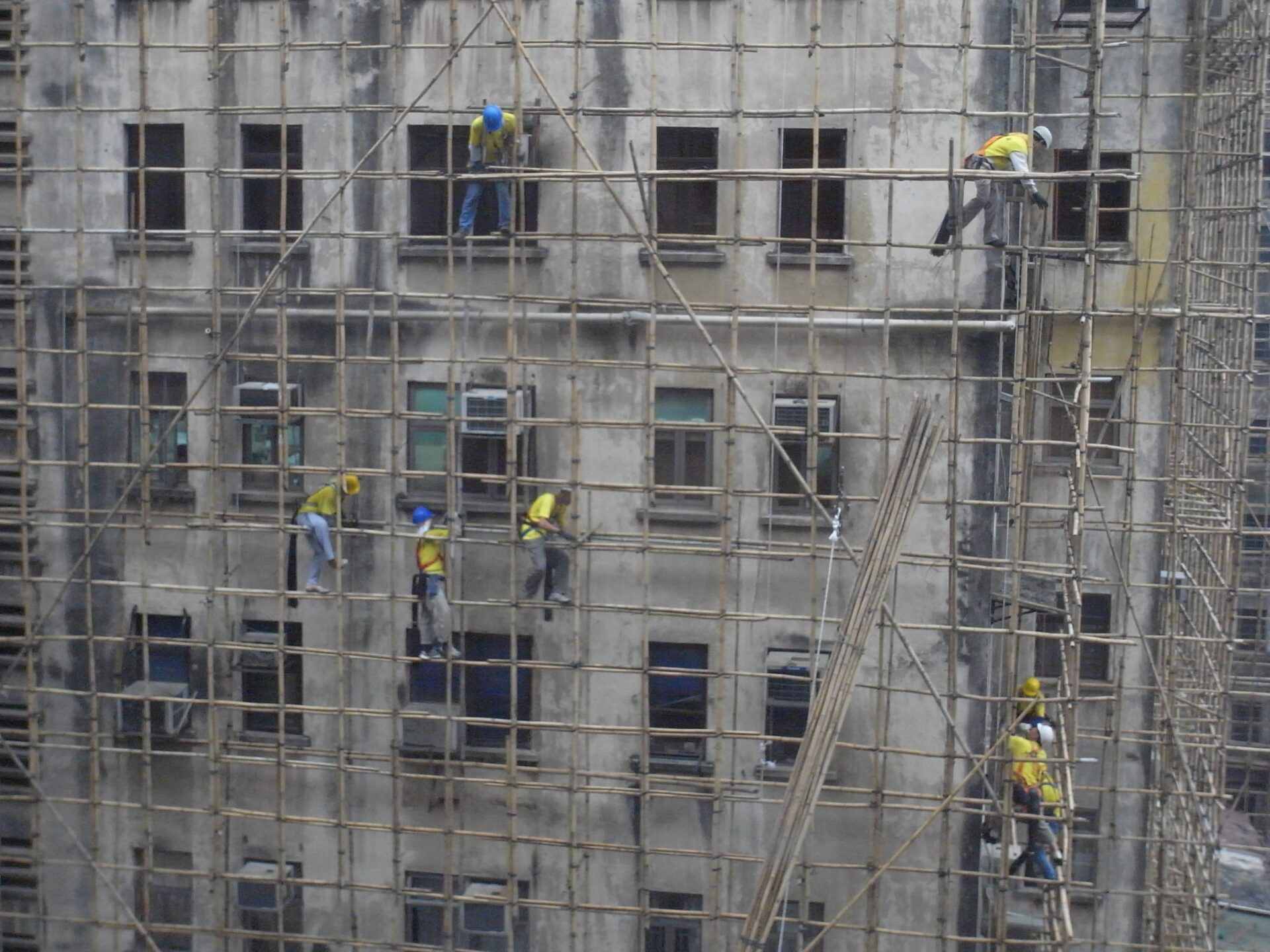 The Great Wall was built using bamboo scaffolds. A super-strong material and of course, abundant in the country – it was a really resourceful way of ensuring their workers could reach great heights and remain (moderately) safe while doing so.
This is still used across the world and Hong Kong is known for opting for bamboo as a favourite construction material to this day.
3# Michelangelo Is Considered The Greatest Commercial Scaffolder Of All Time
That's right, it is believed that he erected a scaffold to paint the incredible Sistine Chapel in Vatican City.
He constructed the platforms out of wood, held up by brackets inserted into the walls of the chapel. As he moved across the ceiling creating massive areas of art, the tall structure moved with him.
It sounds precarious and that's because it probably was! It's even thought (but not proven) that he may have fallen to the floor in the midst of painting one of the walls.
Don't worry, there are far more safety precautions and stricter regulations now than back then!
4# More Than 20,000 Components Were Used To Clad Big Ben
Yep, and it cost over £3.5million just for the scaffold! It was even thought to be the largest free-standing scaffold in the world when it was erected in 2018!
Commercial Scaffolders Want You To Know:
Scaffolding is a crucial part of the construction industry and plays an important role in many different projects from design and build to repairs or even cleaning!
Because it's not something the average person comes into contact with on a daily basis, there are a few things we want you to keep in mind before hiring scaffolding for your next project.
Here are just a few more important things we would like you to know:
5# Trust Us, We Know Our Stuff
Commercial scaffolders go through extensive training and have years of experience in the industry. They know the ins and outs of scaffolding and will be able to advise you on the best type of scaffolding for your project.
So even if your neighbour hired a specific company or structure – it doesn't mean they will be right for you every time. It's a very bespoke requirement and it is vital you get the right advice for the safety and quality of your project.
We'll point you in the right direction and get you the best quote for what you need. We work with multiple sectors and so are prepared to assist you with everything and anything.
6# Safety Comes First
Safety is the number one priority for all commercial scaffolders. We want to make sure that everyone involved in the project is safe, from the workers on the scaffold to those walking underneath.
Project managers and site managers will also ensure everyone is following protocol and complying with regulations when using the structures to give you full peace of mind.
7# There Are Different Types Of Scaffolding Available
Depending on the project, there are different types of scaffolding available. The most common type is tube and fitting but there is also system scaffolding, birdcage scaffolding, mobile towers and more.
Your commercial scaffolder will be able to advise you on which type of scaffold will be best suited for your project.
Tube And Fitting
Using three separate elements, tubes, boards and fittings create a really sturdy and customisable structure. It is not prefabricated meaning there is more flexibility to decide the scale and shape of the structure.
It also means we can add extra safety precautions such as netting and brick guards to comply with Work at Height Regulations. It's not the quickest to erect but does the job well.
System Scaffolding
Also described as 'modular' – this type consists of horizontal and vertical components and provides a greater load capacity than other structures. The pre-engineered joints and transoms also make this a great option for taller buildings and more complex designs.
It is far easier to assemble and store because most of the work is done for you. There are also a few different types of System Scaffolding to choose from.
Cuplock

Ringlock

Kwikstage

Octo
While all are very versatile and cost-effective choices, the material is also incredibly strong. The minimal maintenance and erection time means they could shave valuable time off the start of a project and even cut down costs.
Mobile Towers
A mobile tower is a prefabricated structure that can be used by commercial scaffolders both indoors and outdoors. They are very versatile, easy to erect (usually with just one person) and come in a range of sizes.
The most common type is the scaffold tower which has four legs and two platforms. These towers can be moved around easily as they have wheels attached.
There are also cantilevered towers which only have three legs and are great for when you need to get close to a wall or other obstacles. These structures are also known as 'stairway' or 'lean-to' towers.
Birdcage Scaffolding
This is a very popular choice for commercial scaffolders as it provides great stability and a large working area. It gets its name from the way the structure looks – like a birdcage.
The scaffold is made up of two rows of horizontal tubes with diagonal cross bracing. There are also two sets of vertical tubes which create an 'A' frame shape at either end.
This type of scaffolding is often used on stairwells, elevations and when access is required to the underside of a bridge or viaduct.
8# We May Use Brick Guards And Netting
As we mentioned before, safety is the number one priority for commercial scaffolders. To make sure everyone involved in the project is safe, we often add extra safety precautions such as netting and brick guards.
Brick guards are placed around the base of the scaffold to protect pedestrians from falling debris. Netting is also used to catch any debris or tools that may fall from the scaffold.
Commercial scaffolders will always make sure these precautions are in place before work starts on a project.
Hiring Your Own Commercial Scaffolding
Our team supplies and erects scaffolding for residential clients and commercial businesses in London and surrounding counties – we're not just a one-trick pony!
We always focus on quality, reliability and safety which has guaranteed we remain the go-to contractors in London! So, whatever your project consists of – we can advise you on the best structures to fulfil your requirements.
Even if you have a last-minute job that needs covering, our 24-hour call-out service is on hand to assist you and make sure you don't miss out on valuable action time.
So, don't hesitate to get in touch for a quote or more information. We'll be happy to assist in any way possible.
Check out the history of scaffolding here!